Project type:

Client project at RevUnit agency 


Project length:

4 months


My role:

Product Designer (UI, UX)


Collaborators:

RevUnit product team (Product owner, tech manager, full-stack developers, UX researcher)
As part of a worldwide retailer's initiative to move its internal applications to the cloud, the RevUnit product team got to redesign and refactor an existing legal document management platform, an outdated Flash application. I reviewed the existing application, learned from our super users how to improve their workflows, and redesigned the entire app with the company's branding and Google's material design. 
The application houses legal documents relevant to each store's real estate projects

. 
The app's primary users were the retailer's internal attorneys and paralegals. Secondary users were external firms (ex. environmental insurance firms) and retailer's internal accountants who reviewed the documents less frequently. 

The main purpose of this application is for users to upload, share, and review relevant documents. Additionally, we recognized that commenting on documents and printing were nice-to-haves to enhance our users' workflows.
Even though the original application was created almost a decade ago, it stood the test of time, and our users were quite happy with its functionalities. The redesign of the workflows was minor, but we still found many areas to improve. We decluttered the UI immensely and simplified the navigation. We introduced simple filter options to narrow down the list of projects and users. 
​​​​​​​
One area that was lacking in the original application was user management. Inviting new users and archiving the users took many phone calls and follow-up emails, which slowed down the access of the app and accumulated an extensive database of users who were no longer on projects. We solved these problems by introducing simple flows for inviting and archiving users. The user management tab would only be available to super admins with permissions.
Previously, creating a project was messy with fields that were often auto-generated by other fields. We turned this flow into a 5-step bite-size process so that even the inexperienced new users could quickly understand what information was needed to create a new project.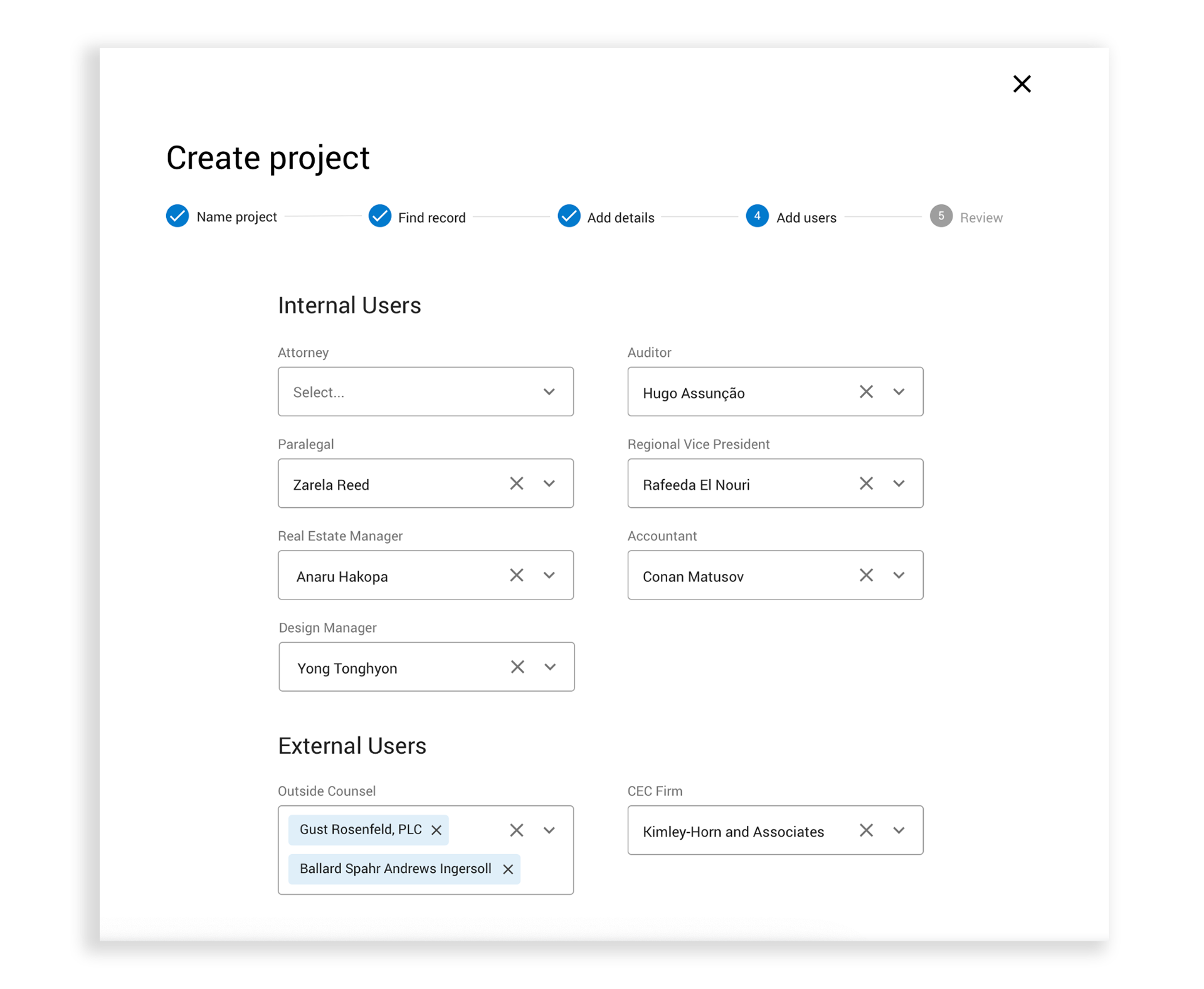 Eighteen tabs comprise each project page. This practice comes straight from the old ways of storing documents in eighteen binders. While we didn't see the need to reinvent the wheel, we moved the eighteen tabs from top to the side panel, making it easy to focus on the documents and tasks to complete.
Another area we innovated was sharing documents. In the old way, paralegals were downloading pdfs from the application, saving onto their computer, and emailing to external counsels. We found this way to not only be inefficient but a considerable risk for security breaches. We created a modal to select documents and enter the email addresses of the users to share. The recipients of the email would get a link that would take them to the document portal where they would be able to review the material, make comments, print, and more.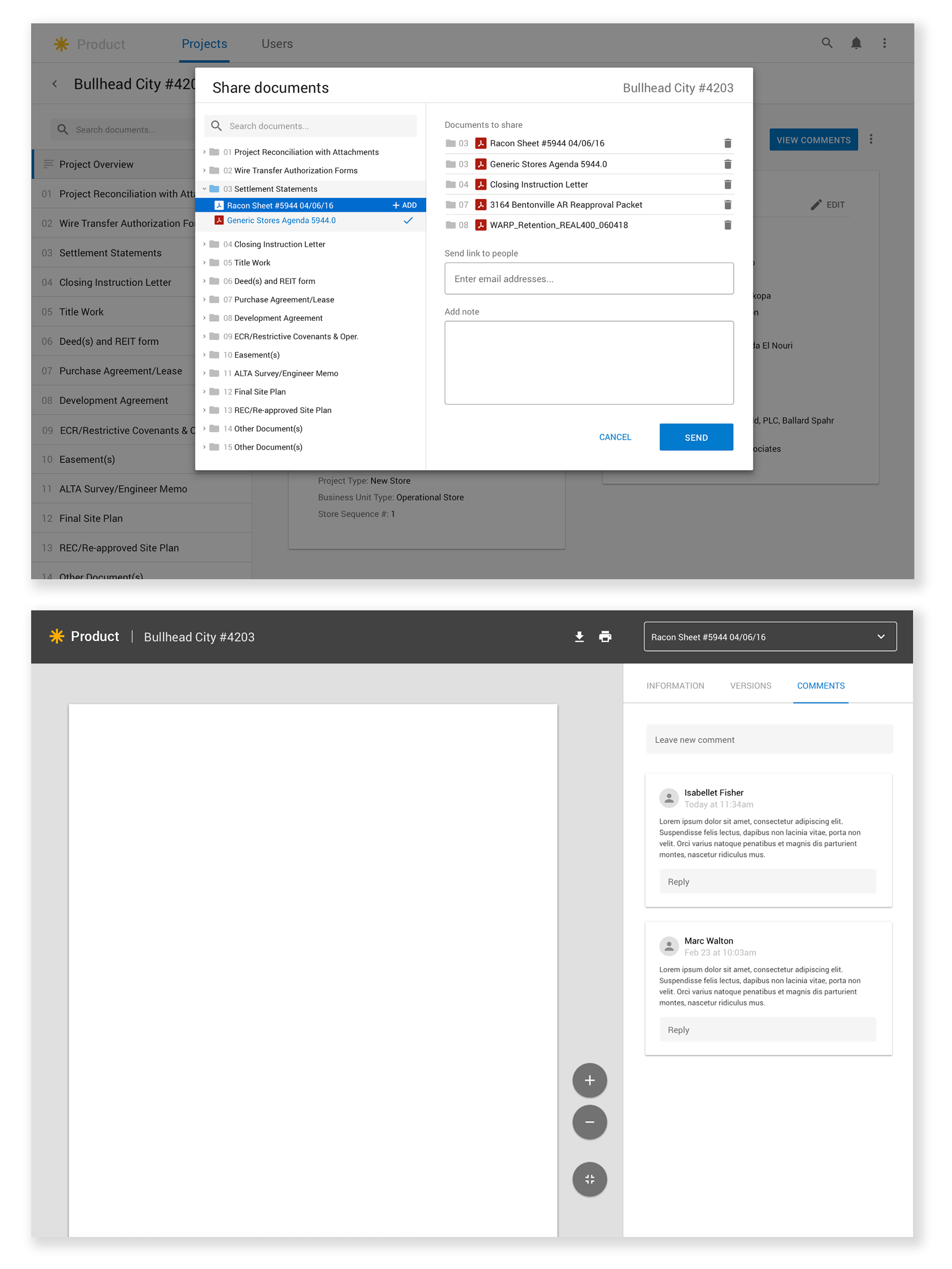 We conducted two rounds of user testing with three paralegals before the development of application using InVision prototypes. We received positive feedback, and our users were excited about new ways of working with improved efficiency. 
The application was about 50% developed by the RevUnit team and handed over to the company's internal development team for completion. We delivered design documentations including InVision prototypes and recordings of user testing.