Project type:

 Design project at MineralSoft, Enverus 


Project length

: 2 months


My role:

 Product Designer 


Collaborators:

 Product manager, developers, (internal) operation team members, customers
The ability to run reports and analyze data in Excels and PDFs is highly valuable to our customers. Our reports allow customers to quickly gather insights on revenue in any period for any land assets that they own. These insights help the mineral managers to understand trends and make decisions about their investments.
However, our report module is a source of ongoing confusion and frustration for our customers. The user experience of report generation leaves much to be desired.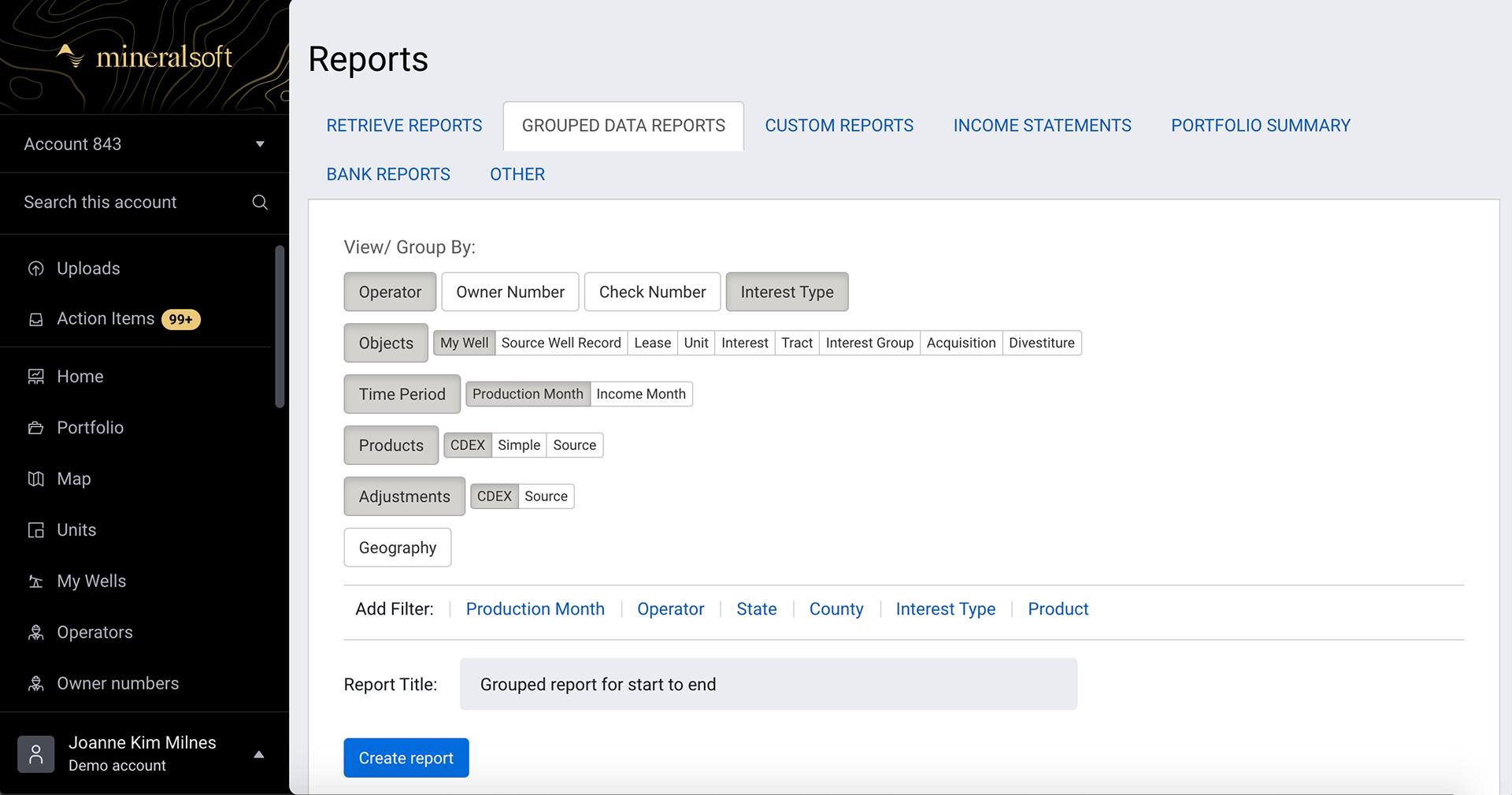 Through customer interviews, we learned many insights, and here are some key takeaways. 
1. Customers find our options and filters challenging to figure out. It is also difficult to imagine what a report will look like before it's generated. It's simply not intuitive to customize reports.
2. Some of our reports are limited in customization. Customers want more filters or the ability to choose and order specific columns.
3. Customers found inconsistent UI components to be confusing. Questions such as "When the button turns gray, does it mean it is selected?" came up a lot.
Internally, we also faced a challenging problem with an increasing number of horizontal tabs. These tabs are not well organized, and we kept running into an issue of "Which tab do we add this new report to?"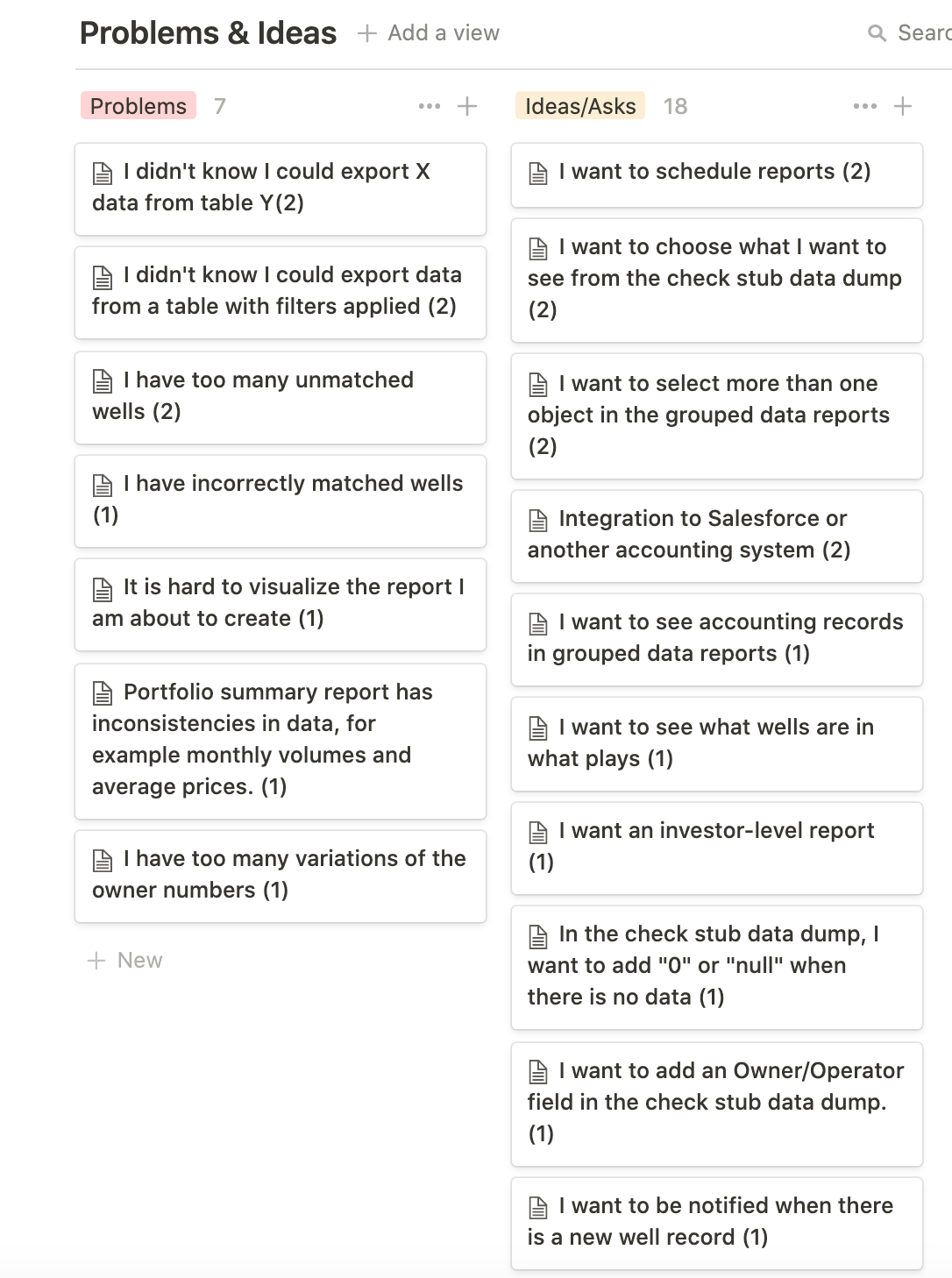 I started by tackling the bigger navigation problem and reimagined the new report generating experience. This new user flow will allow the product team to add a new report type as a card easily A card includes a summary and available formats, which will give the user an idea of what a report looks like from the start. Each report's customization screen may have advanced options and filters. Lastly, we include a preview of the report's skeletons (columns and rows) so that users are not left wondering what they are about to create.
​​​​​​​​​​​​​​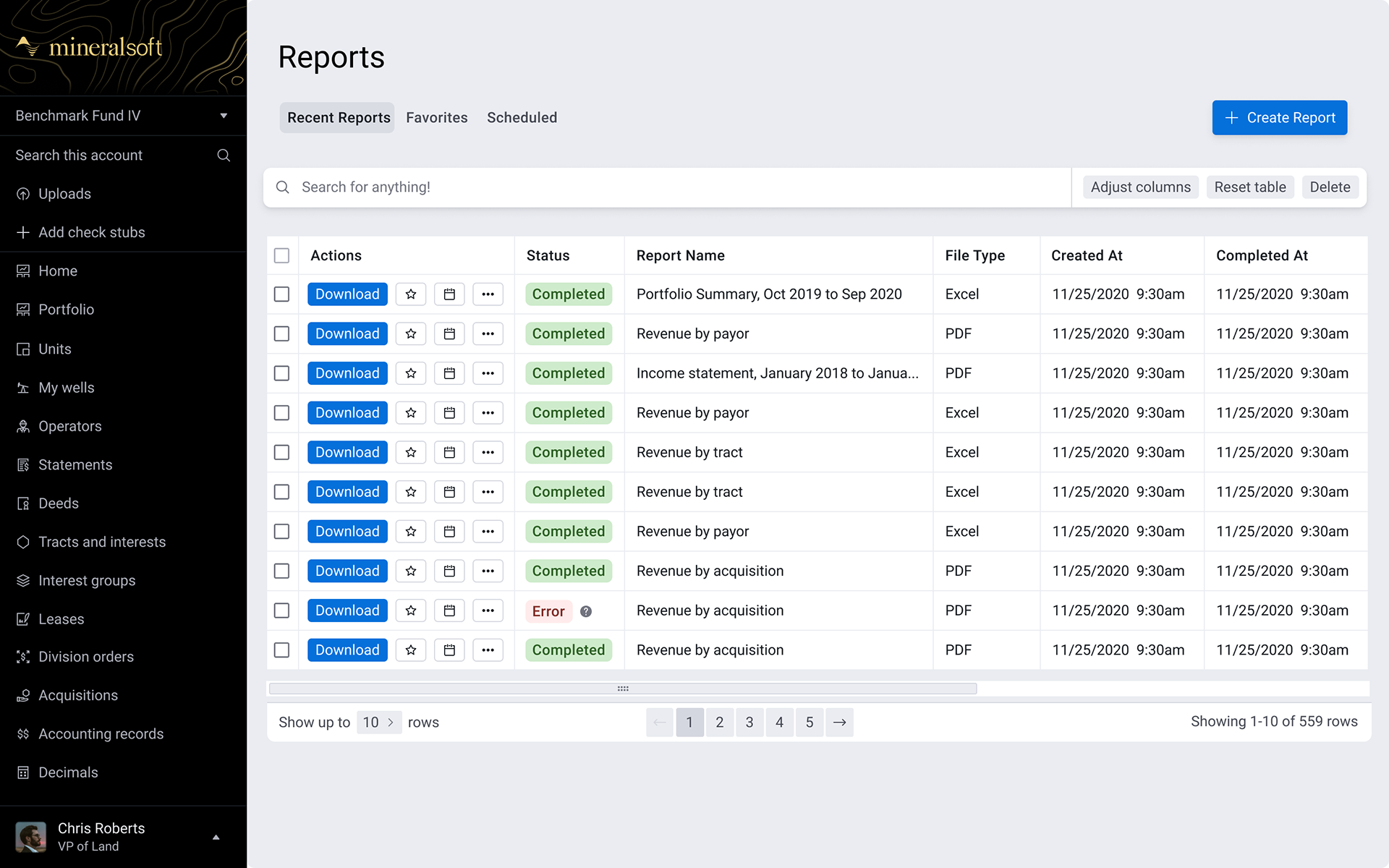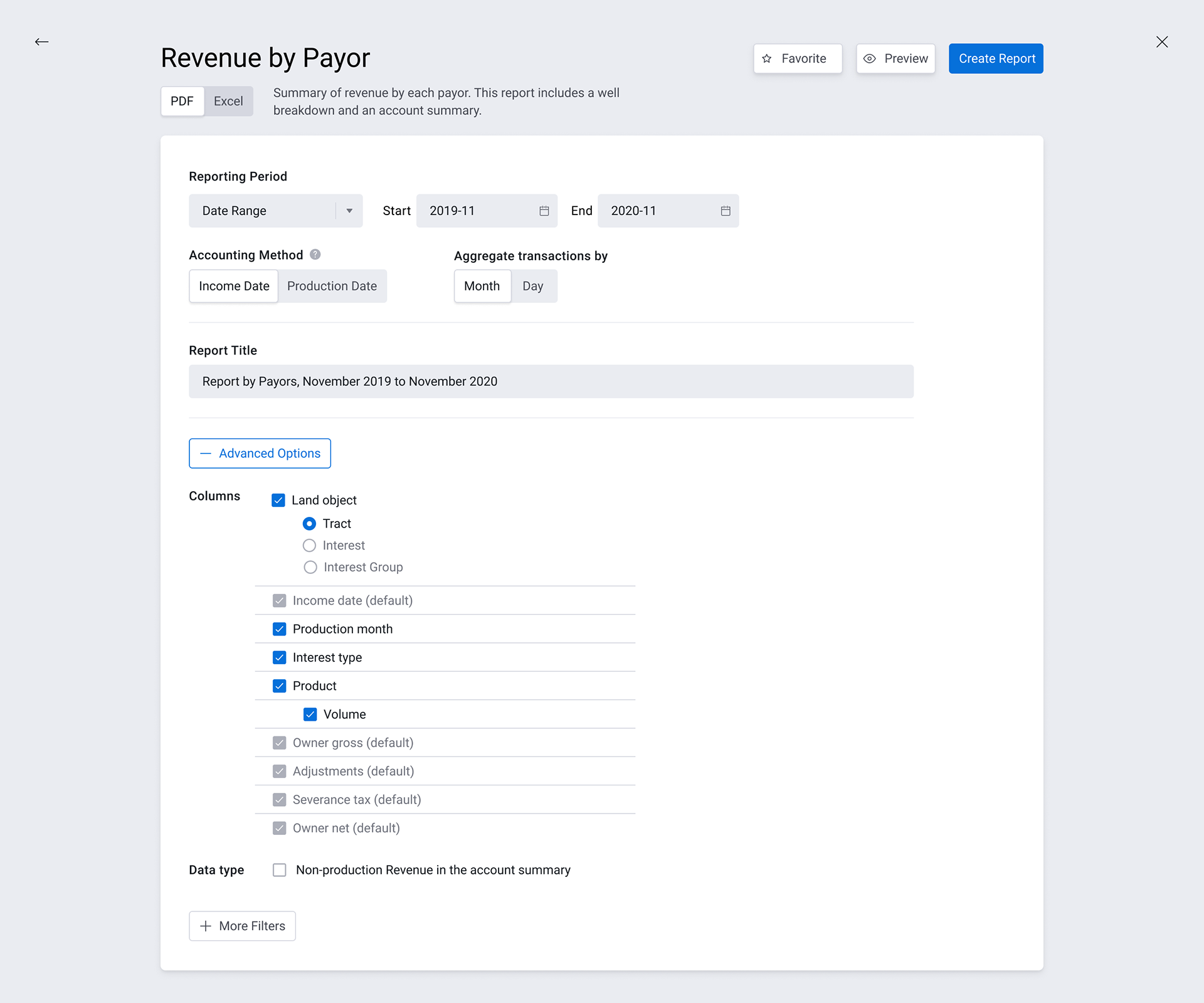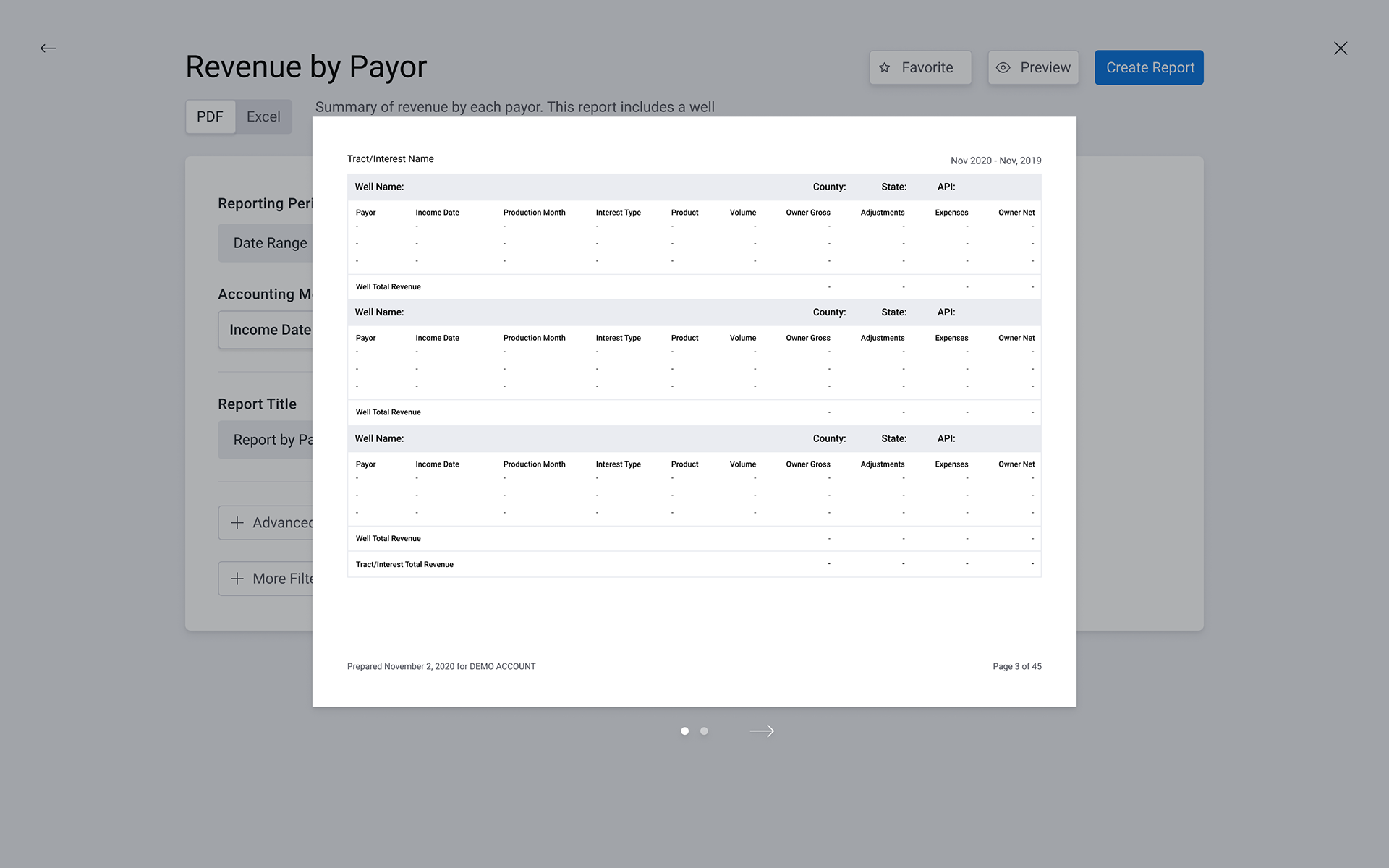 After creating a clickable design prototype, I reached out to many customers we previously talked to and got further feedback. 
Through this process, we generated a lot of ideas to improve the overall reporting experience. 
Here are some of those user stories.
- I want to re-order columns and define sorting in the report so that I can further customize my report.
- I want to see the report details (options, filters and other metadata) before downloading a completed report so that I can be quickly reminded about the report I created.
- I want to save the report configurations so that I don't need to customize a report that I run regularly each time.
- I want to create reports on a recurring schedule and receive them via email, so that I can save time.
- I want to share a report link within the organization so that I can skip the step of downloading and sharing a report via email or other means.
- I want to create my own report by defining groups and dragging columns and rows, so that I'm not restricted to skeletons that MineralSoft provides.
- I want to add more data visualizations (graphs + charts) to reports so that the data is more presentable and easily understood by my audience. 
--
Development work on this project has not started, but I believe these improvements will significantly increase the usage of our report module and reduce the number of ongoing support tickets.